Welcome to Aarohi Holidays! We invite you to join us for the ultimate experiences in a country that is rich in its nature as well as cultural diversity. The experiences and expertise that we have gathered and our love for adventure is the driving factor behind this venture and we want us to be by your side to share the blissful moments and heavenly pleasure that one encounters in the lap of the Himalayas. Trekking in Nepal through stunning landscapes and rich cultural diversity is an absolute spiritual awakening that will keep you hungry for more.
We provide renowned and safe service in the Himalayan Mountains. Whether traveling for pleasure or business. Our specialized staffs are here to assist you with destination knowledge, new suggestions and friendly. We like to share our passion for the trek, your satisfaction, and your trust is our best reward.
We will offer the best service in competitive price to our clients. It excludes and clears all the hidden costs. Everything is absolutely clearly described in the inclusions and exclusions of our tours and service.
Investigate a extend of trekking alternatives curated to cater to different inclinations. From awe-inspiring scenes to experiences with differing societies, our trekking bundles guarantee a culminate mix of experience and otherworldly existence. Whether you are a prepared trekker or a first-time pioneer, Aarohi Occasions has the perfect travel for you.
Master Guides: Our experienced guides are enthusiastic almost the Himalayas, guaranteeing an improving and secure trekking encounter.
Custom fitted Encounters: We accept in personalized undertakings, advertising adaptability to tailor your travel to coordinate your inclinations.
Dependable Tourism: Aarohi Occasions is committed to economical and capable tourism, contributing to the welfare of nearby communities and the environment.
Everest Base Camp Helicopter Ride Sharing
The Everest Base Camp Helicopter Tour to Everest Region is the best way to see magnificent natural beauty, culture, and enormous mountains up close in a very short length of time. Finest aerial picture of the several peaks in the Khumbu region, including the gigantic Mount Everest.
On this exhilarating helicopter tour, you will soar above the lush slopes and rhododendron-covered alpine meadows while taking in stunning vistas of the Himalayan mountain range of the Everest Region. For those seeking an adrenaline rush and an adventurous experience, the Everest Base Camp Helicopter tour may indeed be suitable.
Here are the two options for a Helicopter Tour in the Everest Region:
Private Charter Everest Base Camp Helicopter Tour
A private Everest base camp Helicopter Tour is one of the most exciting trips anyone can experience. Flying in your own sphere is a requirement for a private helicopter tour to Mount Everest. Private events, friends, family, and members of your own community are all welcome to be added. For individuals who want to enjoy the Everest atmosphere in their own time and space, a private Heli ride towards Everest is excellent.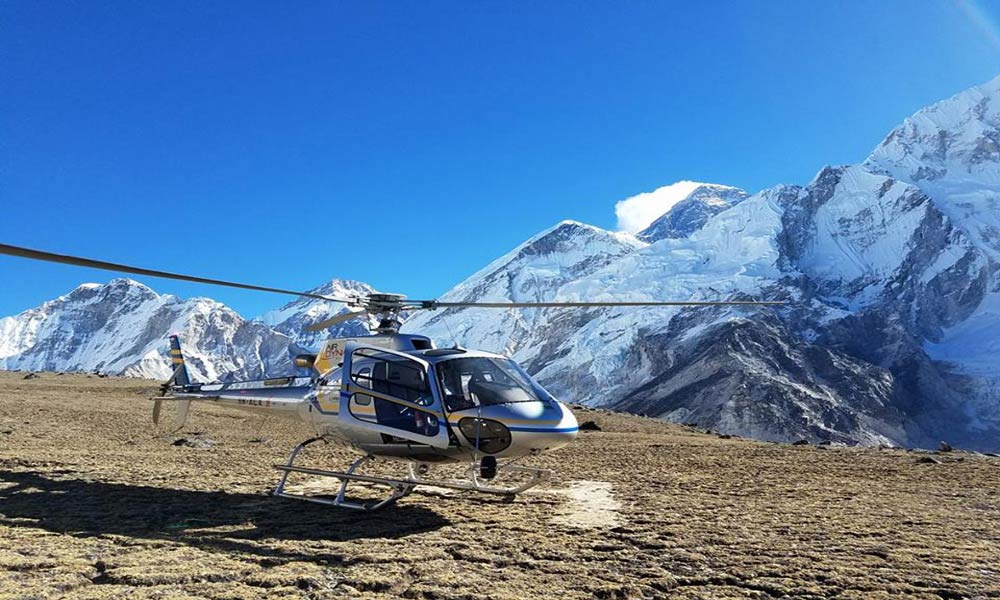 A private helicopter tour to Mount Everest is becoming increasingly well-known. you can reserve a private helicopter ride for various reasons or events and some of which are given below:
Surprise trip for the family or friends.
celebrating the wedding anniversary with cakes and champagne.
Celebrating the birthday in a special and memorable way by going to EBC with the help of a Helicopter ride.
Propose your girlfriend or boyfriend in the Kala Patthar.
Adventure trip with buddies.
This private and scenic helicopter tour to Everest provides the ideal sightseeing adventure for life, apart from other tourists, waiting, or inconvenienced at any time. You will have enough personal space to really appreciate the day and the journey.
The cost of a Private Charter Everest Helicopter tour starts from USD 3800 and can fly a maximum of 5 people
Sharing Base Everest Base Camp Helicopter Tour
The busiest times for helicopter tours to Everest Base Camp are in the spring and fall. During this time of year, the best visibility and a 100% success rate on flights draw a lot of tourists. Because of this, lots of tourists organize into groups and fly together.
The maximum number of passengers on the shared chopper trip to Everest is five. It lowers the price for each person. The tour operator also gives customers some discounts during the busiest times. So, it is the ideal method to experience Everest to its fullest while paying the lowest prices.
You can meet others with similar interests by traveling on the same flight as them. Who knows, the person sitting next to you on a helicopter flight over Mount Everest could end up being a lifelong buddy.
On the Everest Heli Tour, the pilot switches up the seating arrangements for group sharing at each stop. Everyone on board is thrilled since everyone can enjoy the nicest sights at once.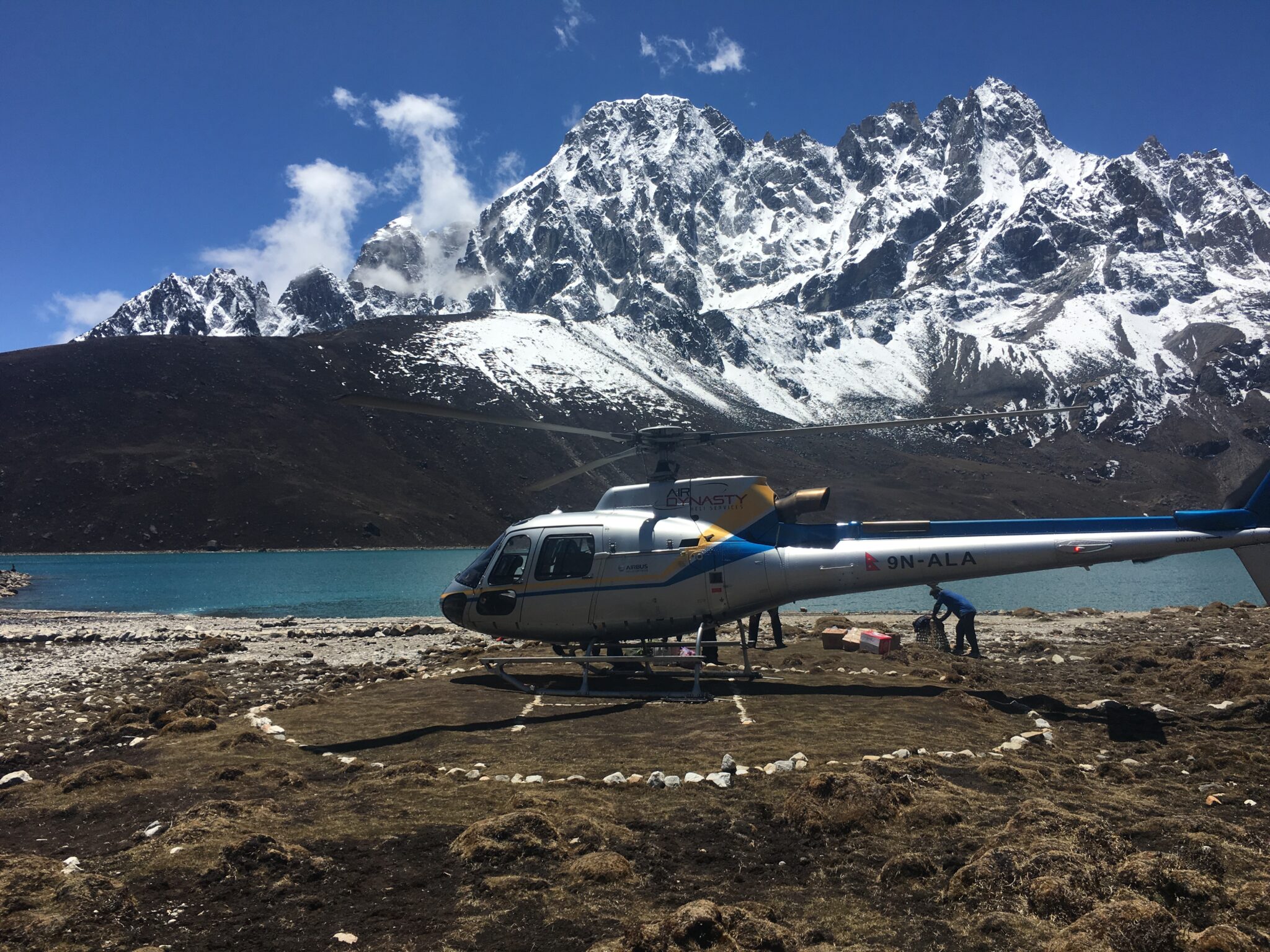 The cost of a Sharing Everest Helicopter tour starts from USD 900 per person to a maximum of 10 people per day.
Embark on an extraordinary journey into the heart of the Himalayas with Aarohi Holidays Pvt. Ltd.'s Everest Base Camp Heli Tour. This exclusive adventure seamlessly blends the thrill of a helicopter ride with the awe-inspiring grandeur of Mount Everest and its surrounding peaks. Whether you're an avid adventure seeker or a nature enthusiast, this tour promises a luxurious and unforgettable experience that will leave an indelible mark on your memory.
Kathmandu- Lukla ( A stop to refuel helicopter).
Lukla-Everest view hotel ( A stop for Breakfast and enjoy thrilling views, as per high elevation and weight restrictions we will do twice suttle to the base camp)
Everest view hotel - Everest base camp flyover and land to Kalapatthar about 15/20 minutes - Get back to the Everet view hotel and together get back to Kathmandu.
Helicopter Ride to Lukla:
Your adventure kicks off with a scenic helicopter journey from Kathmandu to Lukla, the gateway to the Everest region. Soar above the majestic Himalayan landscape, treating yourself to breathtaking aerial views of lush valleys, charming Sherpa villages, and the snow-capped peaks that define this iconic region.
Lukla to Everest Base Camp:
From Lukla, your helicopter ascends on an exhilarating flight to Everest Base Camp (EBC). Marvel at the panoramic views of towering mountains, including Lhotse, Nuptse, and the iconic Mount Everest itself. Immerse yourself in the unique atmosphere of the base camp, where climbers from across the globe gather to embark on their epic summit quests.
Scenic Flight over Khumbu Glacier:
After exploring Everest Base Camp, your helicopter takes you on a scenic flight over the Khumbu Glacier. Witness the vast expanse of the glacier and the challenging icefall section that climbers navigate on their ascent. This bird's-eye view offers an unforgettable perspective on the Himalayan landscape.
Everest View Hotel:
Descend to Syangboche, where a visit to the world-renowned Everest View Hotel awaits. Perched at an altitude of 3,880 meters (12,726 feet), the hotel provides breathtaking panoramic views of Mount Everest, Ama Dablam, and other Himalayan peaks. Enjoy a delectable meal amidst the majestic mountains, creating memories that will linger for a lifetime.
Return to Kathmandu:
As your adventure in the Everest region concludes, board the helicopter for the return flight to Kathmandu. Relive the magical moments during the journey back, reflecting on the incredible sights and experiences that defined this once-in-a-lifetime expedition.
What's included ?
Hotel Pickup Hotel Drop-off
Helicopter Rour
10% Live Entertainment Rax
What's excluded ?
How much does it cost?
Sharing: US$ 1200/- pp

Private: US$ 4500/- pp
Pick up time- 5:45 am
Flight time - 6:30-7:00 am
Duration -3/4 hours